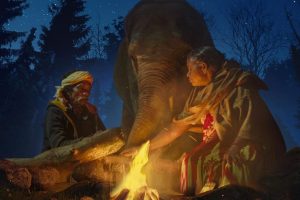 India's remarkable documentary 'The Elephant Whisperers' has made history by winning the prestigious Oscar for Best Documentary Short Film at the 95th Academy Awards. Competing against four other shortlisted films, including 'Haulout', 'How Do You Measure a Year?', 'The Martha Mitchell Effect', and 'Stranger at the Gate', 'The Elephant Whisperers' emerged victorious and were awarded by Pedro Pascal.
Directed by Kartiki Gonsalves, 'The Elephant Whisperers' showcases the heart-warming relationship that develops between a couple and an orphaned baby elephant named Raghu, who is entrusted to their care. The film is a tribute to the coexistence of humans and animals and has been widely appreciated for its powerful narrative and exceptional cinematography.
As 'The Elephant Whisperers' wins #Oscars for the Best Documentary Short Film , it also tells the world great strides being made in India and in Tamil Nadu in elephant conservation . Its also a celebration of our unsung heroes #TNForest #Oscars #Oscars95 #AcademyAwards pic.twitter.com/NEUXJb34VA

— Supriya Sahu IAS (@supriyasahuias) March 13, 2023
Kartiki Gonsalves and Guneet Monga received the award on behalf of the film and expressed their gratitude to the Academy for recognizing their hard work. This is Gonsalves' debut as a director, and the recognition at the Oscars has undoubtedly set the bar high for her future projects.
The Oscar win for 'The Elephant Whisperers' is a proud moment for India and the global film fraternity. It is a testament to the power of storytelling and the impact that cinema can have in shaping our understanding of the world.