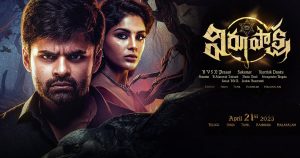 Sai Dharam Tej, who has been a prominent figure in Tollywood for years, has finally hit the jackpot with his latest release, "Virupaksha." The movie, directed by Sukumar's protege Karthik Varma Dandu, has been receiving high praise from audiences and critics alike, and is currently running to packed houses.
The film follows the story of Virupaksha, a man who is on a quest to avenge his father's death. Alongside Sai Dharam Tej, the movie features Samyukthna Menon as the female lead, who delivers a powerful performance. The supporting cast, including actors like Upendra, Sunil, and Rahul Ramakrishna, has also received positive feedback for their performances.

Directed with precision by Karthik Varma Dandu, "Virupaksha" boasts a gripping storyline that keeps the audience on the edge of their seats. The action sequences in the movie are a highlight, with each fight scene choreographed to perfection. The cinematography and background score add to the overall experience, making it an enjoyable watch.
According to sources, there's a buzz that a sequel to "Virupaksha" is on the cards. While no official announcement has been made yet, the news has created a buzz among fans of the movie. If the sequel does come to fruition, it will be interesting to see where the story goes from here.
For Sai Dharam Tej, "Virupaksha" is a much-needed hit, after a string of movies that failed to live up to expectations. The success of the film is a testament to his acting skills and his ability to choose the right projects. With "Virupaksha" being a success, Sai Dharam Tej's star power is sure to rise, and we can expect to see him in more exciting projects in the future.