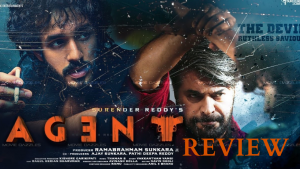 Cast: Akhil Akkineni, Sakshi Vaidya, Mammotty, Dino Morea, Sampath Raj
Director: Surender Reddy
Producers: Ramabrahmam Sunkara, Ajay Sunkara, Pathi Deepa Reddy
Akhil Akkineni has been waiting for a hit for almost a decade, and now with "Agent," he finally has a chance to prove himself.
Story:
The film's plot centers on an ex-agent known as God, who creates a syndicate, and a new recruit named Ricky (played by Akhil), who must stop him. Along the way, Ricky develops a relationship with Mahadev (played by Mammootty), and the love angle is an essential part of the story.
Analysis:
Akhil's physical transformation for the film, including a six-pack and a new hairstyle, adds to his cool on-screen persona. However, his acting in "Agent" is a mixed bag. While his whacky and wild role works in parts, he fails to impress in more significant mass moments. His improvement is visible in the lighter scenes, and he attempts to speak in Telangana slang, which is passable. Overall, "Agent" showcases Akhil as a work in progress, highlighting his strengths and areas for improvement.
Sakshi Vaidya, who plays the female lead, lacks a big-screen presence, and her role is unremarkable, apart from some romantic scenes with the hero. When her character goes missing in the second half, it doesn't affect the audience much, indicating the lack of depth in her acting and characterization.
Some of the well-known actors in the film, including Mammootty, Dino Morea, and Varalakshmi Sarathkumar, feel miscast or unnecessary for their parts. While Sampath and Sathya deliver satisfactory performances, the other actors' performances are underwhelming.
Director Surender Reddy is known for his stylish action films like "Kick" and "Dhruva," but "Agent" falls short of expectations due to its routine premise and poor writing. The love track fails to provide any entertainment, and the songs are forgettable.
The film picks up momentum towards the interval with an impressive action sequence, but things go downhill in the second half. The action scenes become lengthy and tiring, and the drama lacks depth and intensity. The villain's over-the-top and illogical acts feel unconvincing due to miscasting, making the film's action look clumsy and exhausting.
Despite attempts to differentiate "Agent" from other spy thrillers with quirkiness, the writing disappoints, bringing silliness to the fore instead of making it look crazy and wacky. The pre-climax and climax are too loud and over-the-top, leaving the audience drained by the end.
Verdict:
In conclusion, "Agent" is a misfire, lacking conviction and failing to provide entertainment or action. The film is a wild ride, but a tiring and exhausting one that leaves a lot to be desired.