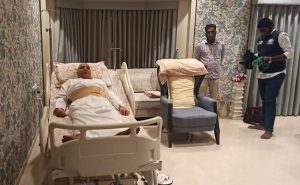 Ram Gopal Varma (RGV) has released a video clip on Twitter that depicts glimpses of Ramoji Rao, the founder of Ramoji Film City, with a few memes and trolls interspersed. Ramoji Rao was recently questioned about his alleged involvement in the Margadarsi scam.
For a while, only a picture of Ramoji Rao lying on a bed was made public. However, RGV has now posted a video clip that shows Ramoji Rao being helped onto the bed by people using a waist belt. A doctor examines him, and when he complains of difficulty breathing, an oxygen mask is applied and then removed.
Is this created by artificial intelligence or natural stupidity??? pic.twitter.com/UCxhhXkMyz

— Ram Gopal Varma (@RGVzoomin) April 27, 2023
Ramoji Rao indicated that he could not answer any further questions, implying that he could not do much more. Then, abruptly, he asked the officials, "Will you kill me?" Some of the officers heard this and smiled, and one person replied, "No sir."
This leaked video has further damaged Ramoji Rao's reputation, portraying him as a frail and timid individual. The way he speaks and his complaints about his health, such as "heart palpitations," all seem dubious.
The release of this video on social media demonstrates that it is more powerful than all of the major media outlets combined.
In his tweet, RGV quipped, "Was this video created by artificial intelligence or natural stupidity???". It goes without saying that RGV found only stupidity in this video, as he knows that the AI in Ramoji Film City is not yet up to this level.