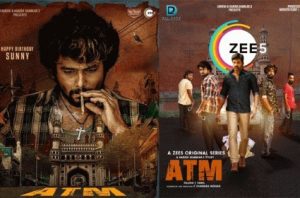 Starring: VJ Sunny, Subbaraju, Prudhvi, Krishna Burugula, Ravi Raj, Roiel Shree, Divi Vadthya, Divyavani
Director: C Chandra Mohan
Producers: Harshith Reddy and Hanshitha
Music Director: Prashant R Vihari
The craze for web series is catching up in Telugu and the filmmakers are coming up with some interesting storylines. Director Harish Shankar has penned an interesting story for a web series titled ATM which started streaming on Zee5 Telugu. Bigg Boss fame VJ Sunny is playing the lead along with 30 years Prudhviraj and Subbaraju in this thriller. Let's see what's the series is all about.
 Story:
Jagan (VJ Sunny), Karthik (Krishna Burugula), Harsha (Roiel Shree), and Abhay (Ravi Raj), are petty thieves who belong to the slums in Hyderabad. One day, they rob a car and sell it off for a small amount. However, their lives turned upside down when they learned that the car belongs to a mafia don and diamonds worth Rs 10 crores were kept in the car which they sold off without having the idea of diamonds in the car.
The mafia don captures them all and beats them up. With no option left to escape, Jagan proposes a deal that he will return Rs. 10 crores money in 10 days. They decide to rob an ATM money-carrying van. They successfully rob worth rupees 25 crores and flee.
A ruthless cop Hegde (Subbaraju) takes gets deployed to chase this case. Did Hegde catch the thieves and recover the robbed money? Did Jagan and his friends really rob the money? To find out the answers one needs to watch the series.
Plus Points:
Minus Points:
Direction, Screenplay
Routine elements
Lack of Emotions
Lack of twists
Verdict:
On the whole, the ATM web series has an exciting storyline and a realistic backdrop. Though there are thrills here and there, the director failed to make it an engaging thriller. The sluggish narration in the first few episodes and unnecessary lag makes it an average web series. You can stream this weekend.