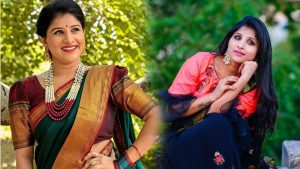 Singer Mangli faced a nightmare last night. An angered crowd pelted stones were pelted on Mangli's car in Karnataka. This incident took place in Bellary on Saturday night when Mangli took part in the Bellary Utsav program at Bellary's Municipal College Ground.
Also Read: Balakrishna tenders public apology
After the event wrapped up, Mangli went backstage where fans in huge numbers were waiting to meet her. Some over-enthusiastic fans entered her private makeup tent. With a stampede-like situation developed, the police had to intervene. To control the people, the police did a lathi charge.
Also Read: ATM Web series Review
Mangli trying to escape the crowd, got into her car and tried to go away from the place. But some angry fans pelted stones at her car and broke the window panes.
Recently, the singer attended an event in Chikballapur where she addressed the crowd in Telugu. Though the anchor tried to convince Mangli to utter a few words in Kannada, Mangli said that since Anantapur was nearby, people would understand her speaking in Telugu. The video about this might have apparently hurt some hard-core Kannadigas.
View this post on Instagram
However, Mangli denied the rumors and released an official statement on her social media handle. She said that it was false propaganda by someone to malign her image.