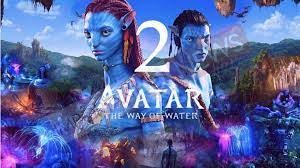 Starring: Sam Worthington, Zoe Saldaña, Sigourney Weaver, Stephen Lang, Kate Winslet, Cliff Curtis, Joel David Moore
Director: James Cameron
Producers: James Cameron, Jon Landau
The 13-year wait is over – Avatar: The Way of Water has finally arrived in cinemas today. The first part Avatar which was released in 2009 was the highest-grossing movie for several years. The movie collected $2.92 billion and paved the way for so many films that would dare to experiment with filmmaking techniques, yet James was in no rush to build it into a franchise. After a long gap, the filmmaker is back with a deeply personal sequel and the expectations have skyrocketed. Let's see whether the sequel can surpass the first part or not.
Story:
Jake Sully aka Toruk Makto (Sam Worthington) along with his wife Neytiri (Zoe Saldana) and kids Neteyam (Jamie Flatters), Loak (Britain Dalton), Tuk (Trinity Bliss), and Kiri (Sigourney Weaver) lead a happy life on the Pandora planet. They also have Spider (Jack Champion), an orphan human. When everything is going fine in their lives, Colonel Miles Quaritch (Stephen Lang) comes back as a special Avatar to seek revenge on Jake Sully and his people. He abducts Spider and takes him away. With the impending dangers, Jake decides to shift his home to a new place, where the Metkayina clan lives. Shockingly, Colonel and his Sky people are inbound to this new home as well. How the forest and water people save their families from the humans is the rest of the story.
Analysis:
Avatar – The Way of Water is another technological marvel from James Cameron. From Jake Sully (Sam Worthington) to his spouse, Neytiri (Zoe Saldana), and their children to the lush, gorgeous terrain and the awe-inducing sea animals, nothing is real, and yet, the audience will feel immersed in a whole new world where a sense of calm and serenity is the norm.
Verdict:
On the whole, Avatar: The Way Of Water is all about family and emotions. The movie predictably delivers a similar, if not identical, sense of awe and wonder as its prequel did more than a decade ago. James Cameron knows exactly how to elevate a simple story structure into an intense visual spectacle, and The Way of Water is everything he promised and very worth the wait.