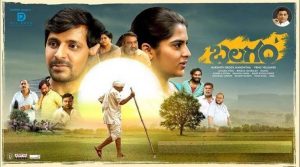 The latest sensation from Tollywood, "Balagam," starring Priyadarshi and Kavya Kalyanram in lead roles, has once again made headlines. Directed by comedian-turned-director Venu Yeldandi, this family drama has been recognized with multiple awards.
Most recently, "Balagam" won the Best Drama Feature Film award at the Onkyo Film Awards in Ukraine, and has also received four other awards. These include Best Feature Director (awarded to Venu Yeldandi), Best Actor in a Feature (awarded to Priyadarshi), Best Actress in a Feature (awarded to Kavya Kalyanram), and Best Narrative Feature (also awarded to Venu Yeldandi) at the Washington DC International Cinema Festival.
#Balagam does it big again! 🤩🔥

The film has won four awards in the following categories:

Best Feature Director
Best Actor in a Feature
Best Actress in a Feature
and Best Narrative Feature#BalagamGoesGlobal pic.twitter.com/1EM9wTZ7SR

— Dil Raju Productions (@DilRajuProdctns) April 3, 2023
Undoubtedly, "Balagam" deserves these awards and is likely to win many more in the future. The film's team is thrilled with its latest success. In addition to Priyadarshi and Kavya Kalyanram, Muralidhar Goud, Jayaram, Roopa, Racha Ravi, and others played important roles in this well-crafted film. "Balagam" was produced by Harshith Reddy and Hanshitha Reddy, with music composed by Bheems Ceciroleo.