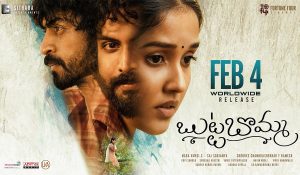 Starring: Anikha Surendran, Arjun Das, Surya Vashistta, Navya Swamy
Director: Shouree Chandrashekhar T Ramesh
Producers: Naga Vamsi S, Sai Soujanya
Music Director: Gopi Sundar
Cinematography: Vamsi Patchipulusu
The forced lockdown during 2020 and 2021 made the audience closer to the content from other languages. With the help of subtitles, the audience got used to watching movies and web series from other Indian and foreign languages. Malayalam movies were watched by the most and everyone appreciated the filmmakers for the content.
Inspired by the Malayali thriller, Telugu filmmakers are out with Butta Bomma, an official remake of the Malayalam movie Kappela. The movie was released today amidst low expectations. Let's see what the movie is all about.
Story:
Satya (Anikha Surendran), is an innocent village girl who lives in Araku. She assists her mother in domestic work and getting the tailoring orders. One day, she receives an accidental phone call from Murali (Surya Vashista). However, she doesn't see his face as he uses an old phone. Though she was reluctant to talk to him, eventually, she develops a liking towards him as he impresses her with his obedient nature on phone calls.
Also Read: Michael Movie Review
After getting to know well about each other, they meet for the first time in Vizag. Unknowingly, they are being followed by Ramakrishna (Arjun Das). Why did Ramakrishna follow them? What happened next? What is the connection between the trio? The main film has all the answers.
 Plus Points:
Premise
Songs
Second half
 Minus Points:
Weak Story
Lack of twists
Artificial flavor
 Verdict:
On the whole, Butta Bomma is a bit slow movie with an important social message. The performances of the lead characters, especially Anikha Surendran, are the biggest assets of the movie. Barring a few boring scenes in the first half, it's a decent watch. However, whoever has watched the original might not like this movie.