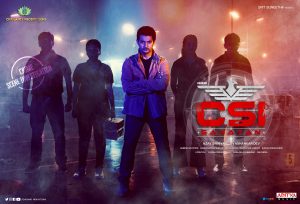 Movie: CSI – Sanatan
Cast: Aadi Sai Kumar, Misha Narang, Nandini Rai, Tarak Ponnappa, Vasanthi, Sanjay Reddy, Madhusudhan Rao, Ali Reza, Khayyum, Siva Karthik, Vikas, Ravi Prakash, Bhupal Raju.
Director: Sivashankar Dev
Producers: Ajay Srinivas
Aadi Saikumar has been releasing movies quite frequently despite the fate of his movies. The actor who had three releases last year was last seen in the web series "Pul Meka" and has come up with a new movie "CSI Sanatan". Let's see what's the movie is all about.
Plot:
The story of CSI – Sanatan revolves around the murder of Vikram Chakravarthi (Tarak Ponnappa), the CEO of VC Finance Company, who amassed a great deal of wealth by providing interest-free loans to the middle class. Sanatan (Aadi Sai Kumar), a Crime Scene Investigation specialist, is assigned by the police department to solve the case. As Sanatan dives deeper into the investigation, he encounters various challenges. The movie also explores the connection between Sudheeksha (Misha Narang) and Minister Rajavarshan (Madhusudhan Reddy) in the case. To discover the identity of the culprit, you must watch the film.
Pros:
Aadi Saikumar's acting skills as a CSI officer continue to improve, and he performs admirably in the action and investigation scenes. Ali Reza's portrayal of police officer Rudra is commendable, and Nandini Rai, Madhusudhan Rao, and Ravi Prakash deliver solid performances. While not entirely original, the plot is intriguing by the twists and turns in the investigation scenes.
Cons:
The screenplay, which is critical to the success of an investigative thriller, is disappointing, as the writers Chaganti Santaiah and Sivashankar Dev fail to create an engaging one for CSI Sanatan. Although the plot is familiar, the film could have been a fascinating crime thriller if the storytelling had been done better. While the direction is satisfactory, the film includes illogical and meaningless scenes, as well as dialogues that undermine the essence of the investigation scenes, such as the worst one, "If a murder happens, then it means there is a murderer."
The director could have included more action sequences to make the movie more engaging. The characters played by Vasanthi and Khayyum do not contribute to the main plot, except for creating suspense, and Misha Narang's performance as the heroine is lackluster. Nandini Rai's character could have been written better to add more drama and suspense.
Verdict:
CSI Sanatan is a crime investigation thriller with its ups and downs. While Aadi's performance and some intriguing twists in the second half make the film worth watching, the slow-paced screenplay in the first half and a few scenes are disappointing. Despite its flaws, the movie is a decent weekend watch.