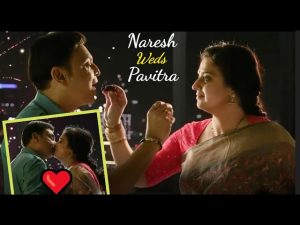 Naresh, a well-known senior actor in Telugu cinema, has tied the knot with his longtime partner Pavitra Lokesh in a traditional Hindu wedding ceremony. The couple confirmed their relationship at the start of the new year, and today they exchanged their wedding vows in an intimate ceremony attended by only a few close family members.
This marks the fourth marriage for Naresh and the second to Pavitra. The couple reportedly met on the sets of the film Sammohanam and fell in love. They have since worked together in several other films, including Andaru Bagundali Andula Nenundali, Middle-Class Abbayi, Happy Wedding, and Ramarao on Duty.
Seeking your blessings for a life time of peace & joy in this new journey of us🤗

ఒక పవిత్ర బంధం
రెండు మనసులు
మూడు ముళ్ళు
ఏడు అడుగులు 🙏

మీ ఆశీస్సులు కోరుకుంటూ ఇట్లు
– మీ #PavitraNaresh ❤️ pic.twitter.com/f26dgXXl6g

— H.E Dr Naresh VK actor (@ItsActorNaresh) March 10, 2023
Naresh's previous marriages include one to the daughter of a well-known dance master, Srinu, as well as marriages to Rekha Supriya, granddaughter of the renowned lyricist Devulpalli Krishna Shastri, and Ramya. The relationship between Naresh and Pavitra was once surrounded by controversy due to his previous marriage, but the couple has now made it official.
In an official video released by the couple, Naresh and Pavitra look extremely happy as they exchange their wedding vows. Telugu cinema lovers who are familiar with their relationship are sure to extend their warmest wishes to the newly married couple.