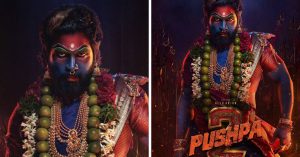 There is a history of boycotts by a section of the Bollywood audience for various reasons, such as the cases of Padmaavat and Pathaan. However, despite negative publicity and attempts to boycott SRK's Pathaan, the film was a box-office success and solidified his position as one of Bollywood's biggest superstars.
Some Bollywood insiders are objecting to the newly released poster of Pushpa 2 and finding faults with it. They have raised concerns about depicting a Hindu god holding a gun and dressing in a certain way. However, this premature reaction reflects the lack of things to do by those behind the boycott movement in Bollywood.
It is important to note that Hindu mythology portrays gods as standing against evil and using violence to restore normalcy when necessary. The Pushpa poster captures this essence in a fresh and striking way while still honoring the religious aspects. It is hypocritical for Bollywood insiders to criticize South filmmakers over religious aspects when these filmmakers value and pay close attention to religious traditions. The intent behind the Pushpa poster is not to distort religious traditions but to glorify them in a new and innovative way. The cultural context of the Pushpa poster should be understood before commenting on it.
The Pushpa poster is inspired by the Chittoor Gangamma Jathara, a customary tradition in the region. Despite this, some Bollywood insiders are still calling for a boycott of the film.