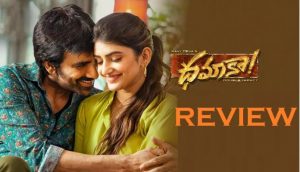 Starring: Ravi Teja, Sree Leela, Jayaram, Sachin Khekdekar, Rao Ramesh
Director: Trinadha Rao Nakkina
Producers: Abhishek Agarwal, T.G. Vishwa Prasad
'Mass Maharaj' Ravi Teja is one of the leading actors in Tollywood. However, the actor hasn't been scoring hits in a row. Barring Raja The Great and Krack, Ravi Teja hasn't scored any super hits in the last few years. His last few movies Khiladi and Rama Rao On Duty failed to entertain the audience. After experimenting with his last few movies, Ravi Teja is back to his best with an out-and-out entertainer, Dhamaka directed by Trinadha Rao Nakkina of Cinema Choopistha Mama fame. The movie has finally hit the theatres. Let's see if Ravi Teja can bounce back with this or not.
Also Read: Malaika's comments on ex-husband
Story:
The movie's story is all about a street-smart guy and his doppelganger, who is a business tycoon. JP (Jayaram) head of JP Orbit has the habit of taking over companies in the most ruthless way. He wants to take over Nanda Gopal Chakravarty's (Sachin Khedekar)'s People Mart and give it as a birthday present to his son Arya (Chirag Jani). However, he faces problems from Nanda Gopal's son Anand Chakravarty (Ravi Teja). When he decides to take him head-on, JP gets a huge shock. Can Anand Chakravarthy save his company? How is Anand Chakravarthy's look-alike Swamy (Ravi Teja) linked to this story forms the crux of the story.
Performances:
Ravi Teja, who is known for his energetic performances is back with the role his fans have been eagerly waiting for. Ravi Teja looks young and handsome in this movie. He excelled well in dual roles.
Sree Leela, who made an impressive debut with Pelli SandaD movie has a good presence and oozed glamour.
Analysis:
Like all his movies, director Trinadha Rao Nakkina made this movie and out an out mass entertainer. However, the movie's treatment is quite old and reminds me of the movies that were made in the 1990s. The main issue with the movie is the overwhelming routineness.
Plus Points:
Few comedy scenes
Ravi Teja
Songs
Minus Points:
Outdated story and screenplay
Predictability
Verdict:
At the outset, Dhamaka is a routine and outdated commercial movie that would have been apt for the 1990s. Barring a few entertainment scenes by Ravi Teja, the movie has nothing new to offer. Watch it only if you are a die-hard fan of Ravi Teja.