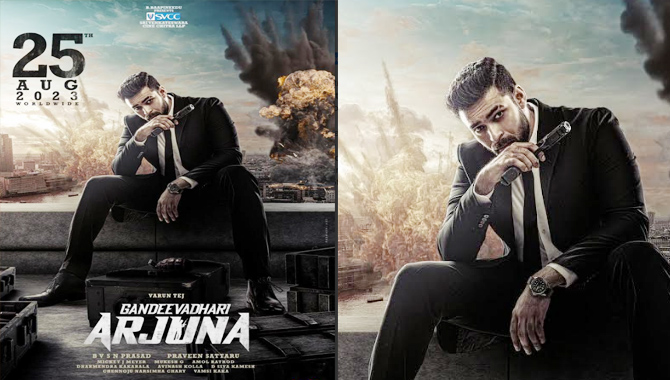 Varun Tej, the Mega Prince of the Telugu film industry, has delivered several decent hits but is still awaiting that one blockbuster film to establish himself as a star hero. However, his upcoming project, "Gandheevadhari Arjuna," directed by Praveen Sattaru, has the potential to be the game-changer he needs. This sleek action thriller, produced on a grand scale under the Sri Venkateswara Cine Chitra banner by senior producer BVSN Prasad, is generating high expectations. Scheduled for release on August 25th, 2023, fans are eagerly anticipating this film.
Recently, the makers unveiled a pre-teaser titled "Horse Power of Arjuna's Chariot," which has intensified the excitement surrounding the project. The pre-teaser showcases glimpses of Arjuna's chariot and features Varun Tej in a charismatic avatar, engaging in intense action sequences. With promises of Hollywood-level action and an adrenaline-pumping score, the pre-teaser leaves the audience craving for more. Praveen Sattaru's expertise in crafting thrilling narratives, combined with Varun Tej's charm and impeccable acting skills, sets the stage for a captivating film experience. The pre-teaser also tantalizes viewers with Arjuna's mighty walk, withholding his face and heightening the anticipation for the film.
In "Gandheevadhari Arjuna," Varun Tej will present a never-before-seen avatar, showcasing his versatility as an actor. Sharing the screen with him is Sakshi Vaidhya, who plays the leading lady, adding to the film's appeal. Complemented by the talented music composer Mickey J Meyer, the film promises high-octane action, a gripping storyline, and the potential to be the long-awaited blockbuster that propels Varun Tej to stardom. As the release date approaches, both the industry and the audience eagerly await the arrival of "Gandheevadhari Arjuna," hoping it will be the film that elevates Varun Tej's career to new heights.