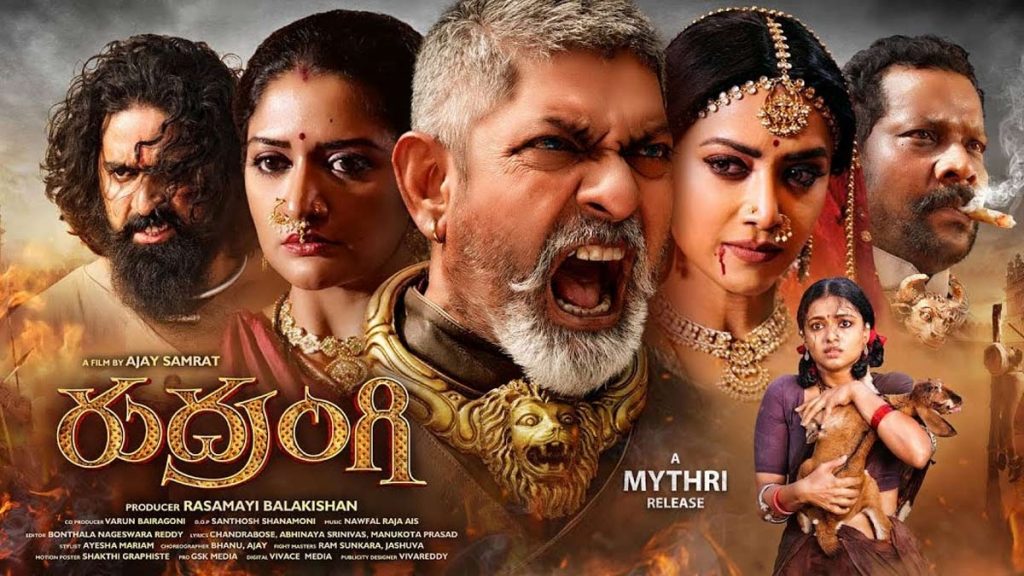 Starring: Jagapathi Babu, Mamta Mohandas, Vimala Raman, Ashish Gandhi, Ganavi Laxman, Kalakeya Prabhakar, Rs Nanda, Divi Vadthya
Director: Ajay Samrat
Producer: Rasamayi Balakishan
Music Director: Ais Nawal Raja
Rudrangi, featuring Jagapathi Babu, Mamta Mohandas, Vimala Raman, and Ashish Gandhi in pivotal roles, has been released today. This period action drama is directed by Ajay Samrat. Let's take a look at how the movie unfolds.
Story:
Set in the 1940s, the story revolves around Bheem Rao Deshmukh (played by Jagapathi Babu), a ruthless monarch and womanizer. His confidant is Mallesh (Ashish Gandhi). Bheem Rao rules over Rudrangi and treats the local people as his slaves. Meera Bhai (Vimala Raman) is his wife, but in order to satisfy his insatiable lust, he marries another woman named Jwala Bhai (Mamta Mohandas).
However, Bheem Rao is not pleased with Jwala Bhai's tomboyish nature and asks her to stay away from him. One day, Bheem Rao encounters a woman named Rudrangi (Ganavi Laxman) and is captivated by her beauty. Bheem Rao is eager to engage in a sexual encounter with Rudrangi, but he discovers a shocking truth about her. What is it? How does it change the fate of the local people? This forms the crux of the story.
Highlights:
Undoubtedly, the spotlight is on Jagapathi Babu, who delivers a mesmerizing performance as Bheem Rao. He effortlessly embodies the character's ruthlessness, menace, and charm, leaving a lasting impression. The actor's portrayal is praiseworthy, with his performance deserving applause in many scenes.
Ashish Gandhi also shines in a significant role, delivering a sincere performance. His portrayal of anger and rebellion against Jagapathi Babu is commendable. Ganavi Laxman impresses in her respective role, and her character takes center stage in the second half. Vimala Raman delivers a fine performance in her limited role.
Mamta Mohandas is phenomenal as Jwala Bhai. Whenever she appears on screen, her fierce performance sets it ablaze, especially during the interval block, which offers an adrenaline rush. The first half maintains a good pace and features several high points.
Drawbacks:
While the first half satisfies, the second half fails to maintain the same momentum. Although the film's central theme, "Battle for self-respect," is present, the lack of thrilling moments disappoints.
Additionally, the pacing slows down in the second half, giving the impression of a lengthy movie. Things could have been wrapped up more swiftly. The emotional scenes are average and could have been presented better to provide a more complete experience.
Mamta Mohandas delivers a terrific performance in the first half, leaving audiences wanting to see more of her. Unfortunately, her role takes a backseat in the entire second half. The action sequences and climax are not up to par.
Verdict:
Overall, Rudrangi is a period drama that attempts to shed light on the issue of oppression. While the first half is decent, the second half falls short, diminishing the overall impact. Jagapathi Babu and Ashish Gandhi shine in their roles, but the emotional aspects could have been better portrayed. Mamta Mohandas' role takes a backseat in the second half. Consequently, Rudrangi ends up being an okay watch for this weekend.