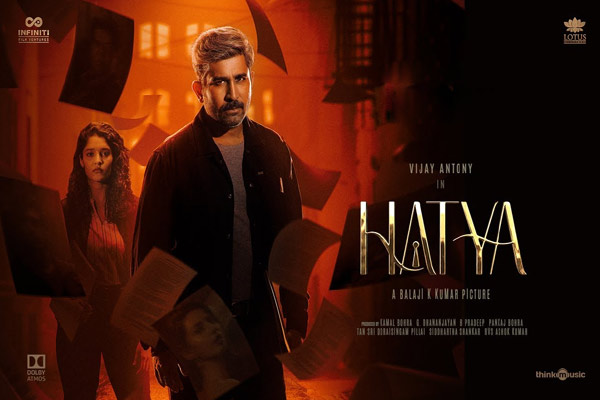 Starring: Vijay Antony, Ritika Singh, Meenakshi Chaudhary, Radhika Sarathkumar, Murali Sharma, Siddhartha Shankar, John Vijay, Kishore Kumar, Arjun Chidambaram
Director: Balaji K Kumar
Producers: Infiniti Film Ventures & Lotus Pictures
Music Director: Girishh Gopalakrishnan
Hatya, a crime thriller starring Vijay Antony, Ritika Singh, and Meenakshi Chaudhary, directed by Balaji K Kumar, hit the screens recently, offering an intriguing story that revolves around a murder mystery.
Story:
The plot unfolds with the murder of Laila (Meenakshi Chaudhary), a professional model, inside her locked flat, leaving investigators puzzled. Sandhya Mohan Raj (Ritika Singh), an IPS officer, takes charge of the case and seeks the help of the skilled private detective Vinayak (Vijay Antony) to solve the mysterious crime. Initially reluctant, Vinayak eventually joins forces with Sandhya to unravel the truth behind Laila's murder.
As the investigation proceeds, suspicion falls on several individuals, including Babloo (Kishore Kumar), who poses as Laila's manager, Satish (Siddhartha Shankar), Laila's boyfriend, Arjun Vasudevan (Arjun Chidambaram), a renowned photographer, and Aditya Kowshik (Murali Sharma), an agent working at a modeling company. The movie revolves around discovering who the real culprit is.
Plus Points:
Hatya stands out due to its exceptional production design, creating a unique world for the investigative thriller. The cinematography is top-notch and brings a fresh perspective to the crime thriller genre.
Vijay Antony delivers a subtle and convincing performance as the private detective. His salt and pepper look add authenticity to his character, and he impressively delivers dialogues and reveals the final twist with brilliance.
The detailed investigation sequences in both halves of the film make for an interesting watch, especially when suspicion points towards all four suspects. Meenakshi Chaudhary's portrayal of Laila adds a poetic touch to the film, while Ritika Singh's supporting role complements Vijay Antony's character effectively.
Minus Points:
The film's biggest drawback is its slow pacing, which becomes tedious after a certain point. Although the initial character introductions take time, the slow narrative continues even after the investigative portions begin. Editing could have been tighter to improve the overall viewing experience.
The second half of the film takes a significant diversion from the main plot, delving into unnecessary family scenes related to Vijay Antony's character. While the director aimed to infuse family emotions, it wasn't entirely relevant to the core plot.
Murali Sharma and Radhika Sarathkumar have limited screen time and are wasted in minor roles. Additionally, it is disappointing to see someone else dubbing for Murali Sharma's character in Telugu, detracting from his fantastic performance.
Verdict:
Hatya is a crime thriller that heavily relies on Vijay Antony's compelling performance. While some investigation portions are well-handled, the slow-paced narration and deviations in the second half dampen the overall impact. Despite its flaws, the film remains watchable mainly for Vijay Antony's portrayal of the private detective. If you enjoy crime thrillers and are a fan of Vijay Antony, Hatya might be worth a weekend watch.