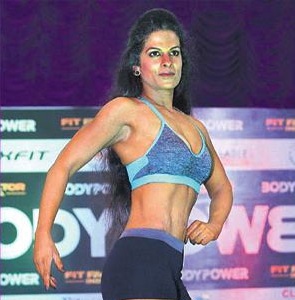 Beauty pageants are a passe, now women are challenging men with fitness. Here's a Hyderabadi woman who won the fitness contest.
Kesari Lavanya from Amberpet won Fit Factor contest organized by the Body Power United Kingdom. She won the title in woman's category at the contest held at the Jaya Gardens in Somajiguda.
Lavanya flaunted her six-pack abs and bulging biceps which will give anyone fitness goals.
Speaking on the occasion, Lavanya excited to emerge a winner. She was also a runnerup in the National Level Transformation Challenge contest. Lavanya thanked her husband Srikanth for his support.