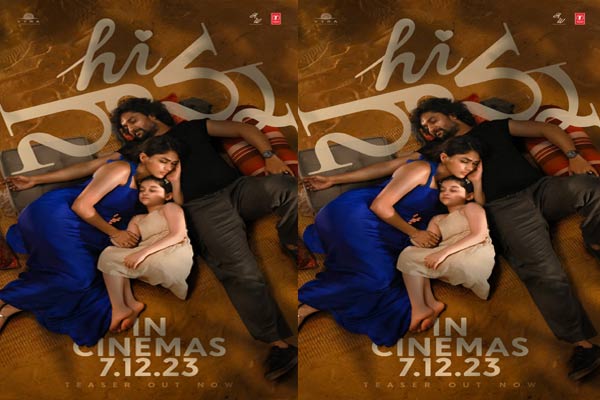 Nani, fondly called as the "Natural Star," has been creating a significant buzz around his forthcoming movie, "Hi Nanna." This film has garnered attention due to its unique poster designs and teasers, and it marks the directorial debut of Shouryuv. Mrunal Thakur is playing the female lead in this movie.
The highly-anticipated teaser for "Hi Nanna" recently made its online debut and left the audience captivated. The teaser introduces Nani in the endearing role of a father to his daughter Mahi, portrayed by Baby Kiara Khanna. It then delves into the character of Mrunal Thakur, Yashna, who falls in love with Nani, but she is already committed to someone else, leading to Nani's emotional turmoil. What unfolds next? Who is Mahi? Does Nani share a hidden connection with Mrunal? These intriguing details are being saved for the cinematic experience.
Director Shouryuv, in his debut venture, has displayed impressive storytelling skills. Managing a narrative rich in emotions can be quite challenging for a newcomer, but Shouryuv has shown exceptional maturity in his maiden project. He masterfully balances the emotional depth of the father-daughter relationship, likely to resonate with every parent, alongside the blossoming love story between Nani and Mrunal, radiating joy. The teaser showcases the remarkable performances of all three central characters. The film is slated for release on December 7, 2023, in various Indian languages, as confirmed by the filmmakers.

"Hi Nanna" features a talented ensemble cast, including actors like Jayaram, Priyadarshi, Angad Bedi, and more, in significant roles. The film is produced by Vyra Entertainments, with Hesham Abdul Wahab responsible for the music composition. Stay tuned for further updates on this promising cinematic project.