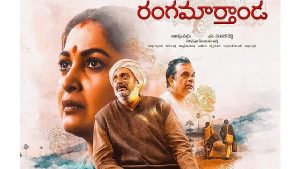 Starring: Prakash Raj, Ramya Krishnan, Brahmanandam, Anasuya Bharadwaj, Shivathmika Rajashekar, Aadarsh Balakrishna, Rahul Sipligunj, Ali Reza, and others
Director: Krishna Vamsi
Producers: Kalipu Madhu, S. Venkat Reddy
Music Director: Ilaiyaraaja
The once sensational director Krishna Vamsi, who had taken a hiatus from directing for six years, has made a comeback with his latest film "Rangamarthanda," starring popular actors Prakash Raj, Ramya Krishnan, and Brahmanandam in significant roles. The movie hit the screens today, and it remains to be seen how it performs with the audience.
Story:
In "Rangamarthanda," Prakash Raj portrays the character of Raghava Rao, an accomplished theatre artist who has earned the prestigious title of Rangamarthanda for his remarkable contributions to the field. As Raghava Rao grows older, he decides to retire from his profession and divides his wealth between his two children, Sri (played by Shivathmika Rajasekhar) and Ranga (portrayed by Aadarsh Balakrishna). However, to Raghava Rao and his wife Raju Garu's dismay, their children ill-treat them after this. The rest of the movie focuses on the ensuing drama between Rangamarthanda Raghava Rao and his offspring.
Plus Points:
Krishna Vamsi's decision to cast Prakash Raj as the lead in "Rangamarthanda" was an astute one, as the actor's vast experience added tremendous value to the movie. His performance in the film is comparable to his exceptional act in "Kanchivaram," which earned him the National Best Actor Award. It's hard to envision anyone else playing Raghava Rao's character as seamlessly as Prakash Raj did, exhibiting his versatility and leaving an indelible impression on the audience.
The emotions depicted in the movie are extraordinary, especially in the second half. Director Krishna Vamsi made his mark in this aspect, portraying how theatre artists, who live and breathe their craft, display their anger or sorrow in a heart-rending way. The climax is outstanding and leaves a lasting impact on the viewer.
Brahmanandam, known for his comedic roles, also showcased his talent in emotional scenes, proving that good comedians can convey deep emotions with finesse. Having such a legendary comedian in a role with a wide range of emotions was a significant advantage for the film. Ramya Krishnan played her role as a homemaker flawlessly, providing strong support to Prakash Raj. Shivathmika Rajasekhar's natural acting added depth to the movie, and Anasuya Bharadwaj, Rahul Sipligunj, and Aadarsh Balakrishna gave compelling performances in their respective roles.
Megastar Chiranjeevi's voiceover was excellent and helped to highlight the struggles that actors face to entertain their audience. The film touches on many essential aspects of daily life and conveys a beautiful and meaningful message. From the opening credits, Chiru's voiceover captivated the audience's attention. Overall, "Rangamarthanda" is a remarkable portrayal of emotions and a must-watch film for everyone.
Although the movie brilliantly portrays emotions, the storyline of Rangamarthanda seems to be reminiscent of older films like Samsaram Oka Chadarangam. While the plot may be engrossing for those who are new to this genre, it can become predictable for those who have already watched similar films.

The first half of the film moves at a leisurely pace, and certain scenes seem to drag on for an extended period. The editing team could have made the film more fast-paced by shortening certain parts. The movie sometimes employs outdated presentation techniques, and there are a few inconsistencies in the narrative.
In summary, Rangamarthanda is a good option for those who are intrigued by the story of a theatre artist. The film's main highlights include the exceptional acting of Prakash Raj and Brahmanandam, along with the compelling drama of the second half. Nevertheless, the predictable plot and slow-paced storytelling may diminish the overall impact for some viewers. Despite this, Rangamarthanda is worth watching for its emotional depth.