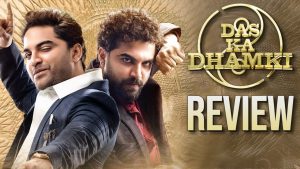 Cast: Vishwak Sen, Nivetha Pethuraj, Ajay, Rao Ramesh, and others
Director: Vishwak Sen
Producers: Vanmaye Creations and Vishwak Sen Cinemas
Story:
"Das Ki Dhamki" is a film that showcases the multi-talented Vishwak Sen's skills as both an actor and director. The story revolves around Krishna Das, played by Vishwak Sen, a waiter who dreams of living a life of luxury and wealth. To achieve this, Das and his friends devise a plan to scam Keerthi, played by Nivetha.
Meanwhile, Sanjay Rudra, played by Vishwak Sen again, is the owner of a pharmaceutical company that claims to have discovered a cure for cancer. A massive deal worth 10,000 crores is at stake, and Dhanunjay, played by Ajay, and Sanjay are in fierce competition to secure it.
Analysis:
The first half of the film showcases a well-done portrayal of Das's character, with Vishwak Sen delivering an average performance. The love story between Das and Keerthi is not the most innovative, but it does have commercial appeal. Hyper Aadi and Mahesh provide much-needed comedy relief as Das's sidekicks.
However, the second half of the film suffers from too many twists and turns, making it difficult for the audience to follow the plot. The constant flipping of identities between Sanjay and Das can become confusing, and the unnecessary violence and excessive use of swear words may not be suitable for all viewers.
Verdict:
Overall, "Das Ki Dhamki" would have been a winner if Vishwak Sen had kept it simple in the second half. While the movie features lavish production values and catchy songs, it fails to leave a lasting impact due to its confusing plot and convoluted storyline.
In conclusion, "Das Ki Dhamki" may appeal to some audiences, but it may test the patience of others. Vishwak Sen's commendable performance as the hero is overshadowed by his shortcomings as a director, making the film an average watch at best.