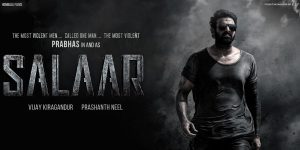 Fans of Pan India star Prabhas have been eagerly waiting for updates on his upcoming action movie Salaar, directed by Prashant Neel. While a few glimpses of Project K have been released, they failed to impress fans. As for Salaar, fans have only been treated to a poster, leaving them feeling frustrated and disappointed.
Despite the highly anticipated release of Adipurush, fans have lost hope after being let down by its posters and teaser. In contrast, the anticipation for Salaar is at an all-time high, with fans eagerly awaiting any news on the movie's progress.
Reports now suggest that the teaser for Salaar will be released soon after Adipurush's release in June. Fans hope that the intense action scenes and powerful dialogues in the Salaar teaser will live up to their expectations and increase the hype around the movie. With Prabhas and Shruti Haasan sharing screen space, fans cannot wait to see their favorite stars in action. The teaser is expected to be released in the last week of June or the first week of July, and fans are counting down the days.