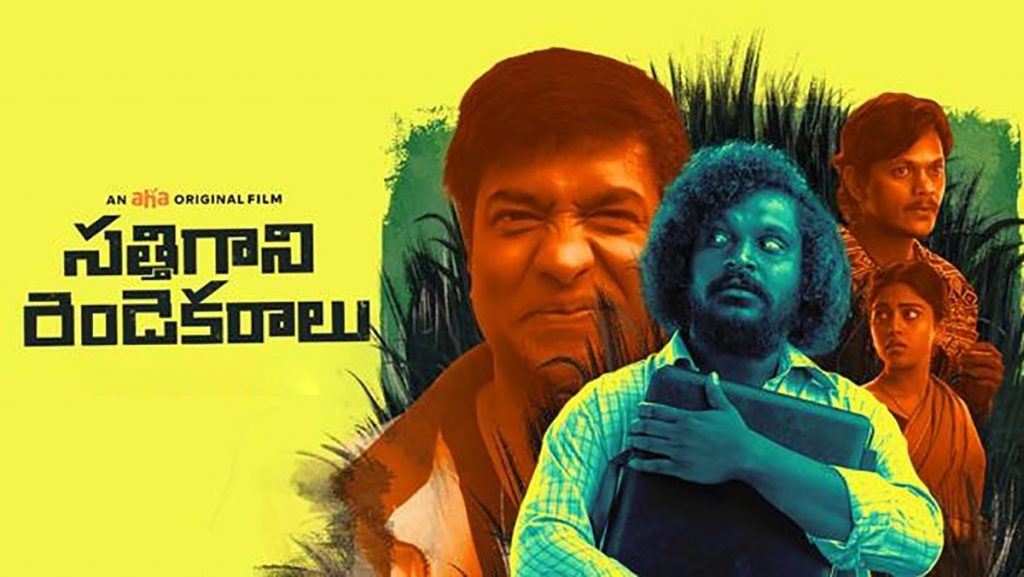 Starring: Jagadeesh Prathap, Vennela Kishore, Mohana Sree, Aneesha Dama, Taj Tirandas, Bithiri Sathi, Muralidhar Goud, and Master Rasool
Director: Abhinav Danda
Producers: Naveen Yerneni, Ravi Shankar. Y
Music Director: Jay Krish
Cinematography: Vishwanath Reddy
Editor: Abhinav Danda
After several delays, Aha's latest film "Sathi Gani Rendu Ekaralu" has finally made its way to the OTT platform. The movie features Jagadeesh Prathap, renowned for his role in "Pushpa," in the lead, with direction by Abhinav Danda. Let's delve into the review to see how it fares.
Story:
"Sathi Gani Rendu Ekaralu" revolves around Sathi (Jagadeesh Prathap), an auto driver residing in Kolluru with his wife Andamma (Mohana Sree), and their two children. Sathi's daughter suffers from a heart condition, and he finds himself in dire need of a substantial amount of money for her operation. With no other viable options, he decides to sell his two-acre land.
However, a twist of fate occurs when he discovers a briefcase containing valuable gemstones. Sathi enlists the help of his friend Anji (Raj Tirandas), a thief, to sell the stones. What unfolds next? Who is the true owner of these precious gems? Will Sathi be able to save his daughter's life? These questions form the core of the story.
Positive Aspects:
Jagadeesh Prathap delivers a sincere performance as a desperate father struggling to gather funds for his daughter's operation. His appearance and body language are commendable, and he remains consistently natural throughout the film.
Vennela Kishore steals the show with his witty nature, providing ample entertainment and generating laughter among the audience. Mohana Sree, Aneesha Dama, and Taj Tirandas also deliver decent performances in their respective roles.
The first hour of the film presents engaging moments, with the comedy portions successfully eliciting laughter. The background music complements the quirky tone of the film, thanks to the commendable work by music director Jay Krish.
Negative Aspects:
Regrettably, the lackluster writing prevents "Sathi Gani Rendu Ekaralu" from becoming a solid comedy entertainer. While the story possesses the potential for an enjoyable and eccentric experience, the writing falls short.
Although there are genuinely funny scenes that evoke laughter, the overall entertainment value gradually declines as the movie progresses. The second hour, in particular, is filled with dull sequences that hinder the film's appeal, neither entertaining the audience nor contributing significantly to the story.
The film's poorly handled climax is another major drawback, leaving viewers with a sense of dissatisfaction. Despite the mention of a sequel, the film's ending fails to provide a satisfying conclusion.
Verdict:
In conclusion, "Sathi Gani Rendu Ekaralu" manages to provide a few moments of laughter and showcases Jagadeesh Prathap's sincere performance. Vennela Kishore's standout acting adds to the film's charm. However, the screenplay falls short of elevating the movie to a higher level. As a result, "Sathi Gani Rendu Ekaralu" can be considered an average watch for this weekend.