Cast: Naveen Chandra, Divya Pillai, Pooja Gandhi, Makrand Deshpande, Ravi Shankar, and others
Director: Srinvias Raju
Producer: Prem Kumar Pandey, Akhilesh Reddy
Naveen Chandra is surely one of the most promising actors in Tollywood. After an impressive outing as a hero with 'Andala Rakshashi', Naveen Chandra tried his luck as a hero in several movies, but success is still eluding him. However, he found more success as an antagonist with Trivkram and NTR's 'Aravinda Sametha' which won him wide laurels. The actor got busier with web series and movies in key roles after that.
Read: Anukoni Prayanam Movie Review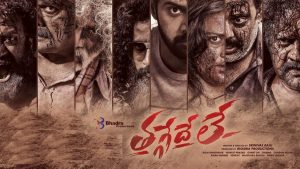 Naveen Chandra has once again decided to try his luck as a hero with 'Thaggdele' movie which hit the screens today. Directed by Srinivas Raju who earlier directed the 'Dandupalyam' series, the movie has generated decent buzz. The director cast most of the members from his 'Dandupalyam' movie. The movie has hit the screens today. Let's see what the movie is all about.
Story:
Eshwar (Naveen Chandra) is a software employee by profession. He along with his friends goes on a jolly trip to Paradise where meets Lizy (Ananya Sengupta). After they become cozy and enjoy their stay, they decide to stay away from each other.
Later, Eswhar gets married to his relative Devi (Divya Pillai) and his life takes an unexpected turn with the entry of the cops Chalapathi (Ravi Shankar) and his assistant (Raja Ravindra) who are tracking the drug peddlers.
How is the drug mafia linked to Eshwar? What is the role of Lizzy in this and how does the notorious Dandupalyam gang land in the scene in the rest of the story?
Advantages
Ravi Shankar
Few action, investigation scenes
Divya Pillai, Ananya Sengupta
Disadvantages
Routine plot
Missing connectivity
The slow pace at times
 Analysis:
The director who succeeded with the 'Dandupalyam' series tries a bit differently this time. Though his idea of incorporating elements like a murder mystery and drug mafia is good, the execution lacks an effective narration. He failed to turn the movie into an engaging thriller.
Had the director focused more on the screenplay and story by cutting down the romantic angle, the movie would have been a better watch.
Verdict:
On the whole, 'Thaggedhele' is a tedious watch and those who haven't watched the 'Dandupalyam' series may give it a watch.