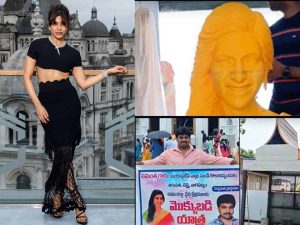 It is common for fans to admire their favorite celebrities, but some fans take it to another level by building temples dedicated to them. This practice has been prevalent in Tamil Nadu for several years, with fans of actresses such as Khushboo, Nidhhi Agerwal, and Hansika constructing temples in their honor. However, some people see this trend as a sign of weakness rather than devotion.
In Andhra Pradesh, Sandeep, a resident of Bapatla and a devoted fan of Samantha Ruth Prabhu, recently built a temple for her at his home. He went on a pilgrimage to pray for her well-being when he learned about her Myositis condition. He completed the construction of the temple enclosure and even created an idol of Samantha, which he plans to inaugurate on her birthday, April 28th.

While Sandeep's gesture may be seen as a sign of devotion by some, others may view it as an extreme form of admiration. Building temples for celebrities goes beyond being a fan and can be seen as a sign of weakness in some cases.