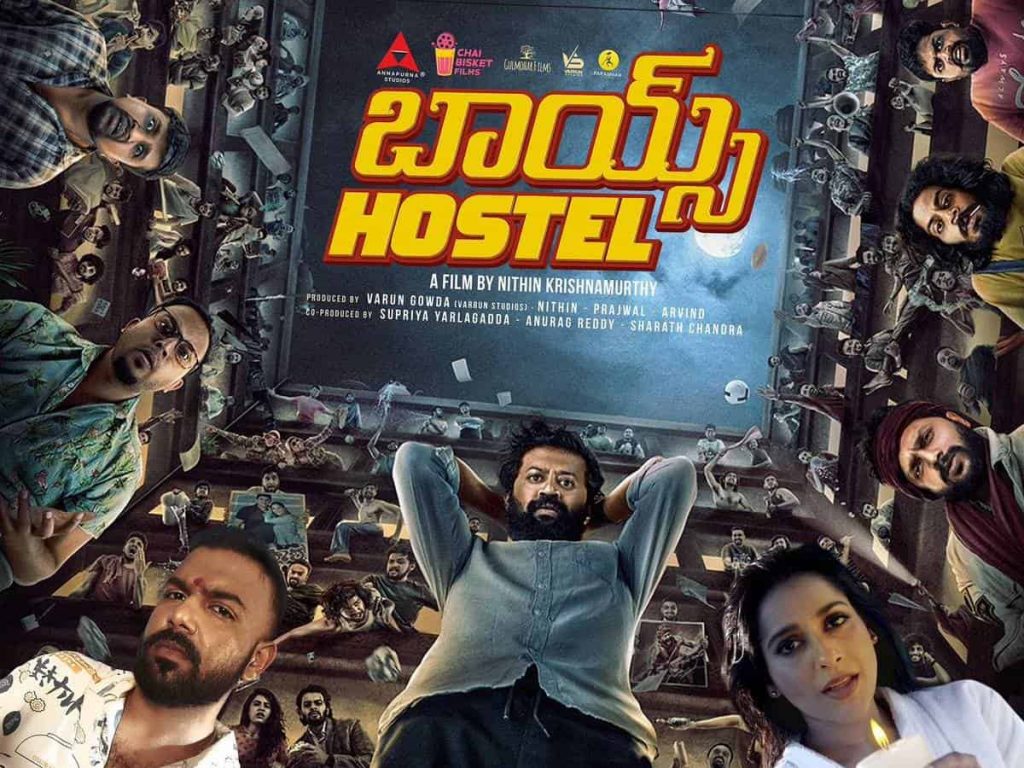 Starring: Manjunath Nayaka, Prajwal BP, Srivatsa Shyam, Gagan Ram, Shreyas Sharma, Bharath Vashist, Tejas Jayanna, Rishab Shetty, Pawan Kumar, Diganth Manchale, Tharun Bhascker, Rashmi Gautam
Director: Nithin Krishnamurthy
Producers: Prajwal B P, Varun Kumar Gowda, Nithin Krishnamurthy, Arvind S Kashyap
Music Director: B. Ajaneesh Loknath
The much-talked-about Kannada blockbuster "Hostel Hudugaru Bekagiddare" has now made its Telugu debut as "Boys Hostel," hitting the theaters today. Let's dive into our review to uncover the essence of this movie.
Story:
"Boys Hostel" revolves around Ramesh Kumar (Manjunath Nayaka), the stern warden of Frankfurt University's hostel. Even the daring Ajith (Prajwal BP) and his gang are under his spell. However, things take a shocking turn when the warden's life ends in tragedy, leaving behind a note that blames Ajith's group for his demise. Panic ensues, leading them on a mission to secretly conceal the body. Did their covert operation succeed? What hurdles did they face? And why did the warden implicate them? The movie holds all the answers.

Highlights:
"Boys Hostel," the Telugu adaptation of "Hostel Hudugaru Bekagiddare," triumphs with its straightforward yet enthralling storyline. The first half's engaging narrative plays a pivotal role in providing an enjoyable cinematic ride.
The movie revolves around the character of the warden, portrayed masterfully by Manjunath Nayaka. The ensemble cast, including Prajwal BP, Srivatsa Shyam, Diganath Manchale, and Gagan Ram, contributes significantly to the story, adding a layer of black comedy.
The collective efforts of the students involved in the central plot infuse humor into the tale, resulting in a riot of laughter.
Tharun Bhascker's cameo, marked by witty dialogues and expressive acting, injects genuine hilarity. Nithin Krishnamurthy's portrayal of Genie, a pivotal character, deserves special mention.
Beyond the performances, the film's spirited soundtrack, dynamic screenplay, and skilled cinematography work in harmony to create an immersive viewing experience. The film smartly integrates trending one-liners and iconic dialogues, enhancing its appeal and relatability.
Drawbacks:
While the movie maintains a brisk pace in the first half, sustaining that momentum proves challenging for the director in the latter part. Though efforts are made to retain audience engagement, a more intricate second-half narrative with additional twists could have heightened the film's impact.
Given the multitude of characters, some unfamiliar to Telugu audiences, recollecting them after the movie might pose a challenge.
Certain sections of the second half may feel sluggish as anticipation builds towards the climax, resulting in sporadic moments of monotony.
Rashmi's character, albeit linked to Tharun Bhascker's perspective, contributes minimally to the overall narrative.
Verdict:
In a nutshell, "Boys Hostel" offers a respectable blend of dark comedy and drama that keeps viewers engaged in the initial half but encounters pacing issues in the latter portion. Standout performances by the student cast and Manjunath Nayaka contribute to the film's appeal, complementing its strong technical elements.
The film's minor repetitions and occasional sluggishness in the second half stand out as its primary weaknesses. The movie is likely to strike a chord with the youth but might not resonate as effectively with family audiences. If these aspects align with your preferences, "Boys Hostel" could be an enjoyable watch for the upcoming weekend.