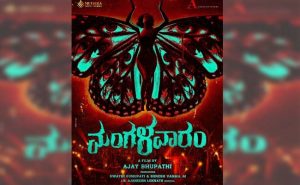 Director Ajay Bhupathi, who shot to fame with the blockbuster hit RX100, is back with a new movie titled Mangalavaaram. The concept poster for the film was recently unveiled, featuring an intriguing image of a woman surrounded by illuminated butterfly-like creations.
Also Read: Interesting Update on Project K
Ajay has described Mangalavaaram as a concept-driven film that explores a genre never before seen in Indian cinema. The film will feature 30 important characters who will play crucial roles in the movie.
Also Read: Lady Director Lakshmi Deepa gets arrested
Music for the film is being composed by Ajaneesh Loknath, of Kantara fame. Regular filming for the movie is currently underway, and more details about the cast and crew are expected to be released soon.
Produced by Swathi Gunupati, Suresh Varma, and Ajay Bhupathi himself, Mangalavaaram is sure to pique the interest of audiences eagerly anticipating Ajay's next project.