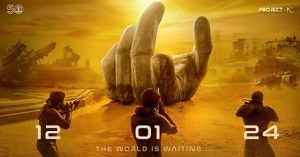 Prabhas's upcoming sci-fi movie Project K is one of the highly anticipated movies. Directed by Nag Ashwin, the movie also has Deepika Padukone, and Amitabh Bachchan. Though it's been a while since the movie's shooting started, nothing much was revealed about the story. According to the producer Ashwini Dutt, the film is heavily reliant on VFX, and work on the graphics has been ongoing for five months. The film is scheduled for release next year.
Also Read: Ranbir Kapoor in Kishore Kumar's biopic?
The producer revealed that the film has elements of fantasy and science-fiction, and it revolves around the modern-day avatar of Vishnu. He also added that the film would be high on sentiments and will feature stunning action sequences overseen by four to five international stunt choreographers.
Also Read: Rajinikanth to be a part of Kantara?
As per Ashwini Dutt's statement, the team completed around 70% of the shooting. However, the VFX work will continue through next year. The anticipation for Project K is high, given the star cast and the director's previous work, which includes the critically acclaimed biopic, Mahanati.
It's interesting to note that reports suggest Project K is based on the Indian epic Mahabharata, with the third world war as its background. Amitabh Bachchan is said to be playing a character similar to Aswathama, while Prabhas is expected to play a role similar to Karna from the Mahabharata.
However, it's worth noting that there has been no official confirmation from the film's makers about the plot or characters of the film. So, it's best to take these reports with a grain of salt until an official announcement is made. Nonetheless, the anticipation for the film is high given the star cast and director's reputation.