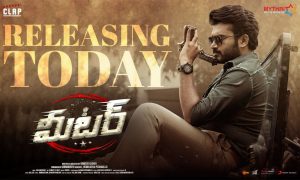 Starring: Kiran Abbavaram, Athulyaa Ravi, Posani Krishna Murali, Sapthagiri
Director: Ramesh Kaduri
Producers: Chiranjeevi (Cherry), Hemalatha Pedamallu
Music Director: Sai Kartheek
Cinematography: Venkat C Dileep
Editor: Karthik Srinivas R
"Meter" is a Telugu action film starring Kiran Abbavaram and Athulyaa Ravi in lead roles. Directed by Ramesh Kaduri, the film is produced by Chiranjeevi and Hemalatha Pedamallu. The movie hit screens on April 7th, 2023. Let's take a look at the film review.
Story:
Arjun Kalyan (Kiran Abbavaram) is a young man who aspires to do something different from his father, who is a police officer. However, he eventually becomes a Sub Inspector in Hyderabad. He tries to get himself suspended but ends up gaining a good reputation. Later, he crosses paths with the Home Minister Kantam Baireddy (Dhanush Pawan) and discovers a shocking truth. What follows next is the crux of the film.
Plus Points:
Kiran Abbavaram delivers an impressive performance as an action hero. His timing in comedy scenes is good, and his dance moves in the mass song are a treat for his fans. Dhanush Pawan, who plays the Home Minister, is a worthy villain, and his face-off scenes with Kiran are enjoyable. Posani Krishna Murali and Sapthagiri provide comic relief throughout the film.
Minus Points:
The film's story is a mixture of several old films, with nothing new to offer. The screenplay is illogical and lacks depth. Athulya Ravi's character has no significance to the story, and the rest of the cast is just average. The director fails to deliver a compelling narrative, making the film tedious to watch.
Technical Aspects:
The music by Sai Kartheek is decent, and the cinematography by Venkat C Dileep is impressive. However, the editing could have been crisper. The production values are neat.
Verdict:
"Meter" is a routine police action drama that fails to engage and entertain due to its predictable storyline and poor screenplay. The only bright spot in the film is Kiran Abbavaram's performance as an action hero. Overall, the film can be skipped.