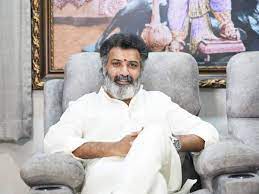 It's another shocking and sad news for the Telugu film industry. Actor Nandamuri Taraka Ratna lasted his breath. His death has come as a shock to the Telugu film industry, which has already lost several prominent actors in recent times. Fans and colleagues took to social media to express their grief and pay tribute to the actor.
బావ అంటూ ఆప్యాయంగా పిలిచే ఆ గొంతు ఇక నాకు వినిపించ‌దు. నేనున్నానంటూ నా వెంట న‌డిచిన ఆ అడుగుల చ‌ప్పుడు ఆగిపోయింది. నంద‌మూరి తార‌క‌ర‌త్న మృతి దిగ్భ్రాంతికి గురి చేసింది. తెలుగుదేశం యువ‌తేజం తార‌క‌ర‌త్న మృతి మా కుటుంబానికి, తెలుగుదేశం పార్టీకి తీర‌ని లోటు.(1/2) pic.twitter.com/MLLlp3p60G

— Lokesh Nara (@naralokesh) February 18, 2023
Grandson of legendary NTR, Taraka Ratna made his debut with the Okato Number Kurradu movie. But, he couldn't make it big in the movies and stepped into politics recently. He wanted to contest in the 2024 elections. Sadly, he fainted during the political rally following an intense cardiac arrest. He was rushed to Bengaluru's Narayana Hrudayalaya hospital. The doctors tried to save his life, but all their attempts went in vain. Having fought for life for 23 days, Taraka Ratna lasted his breath on 18th February on the occasion of Maha Shiva Ratri.