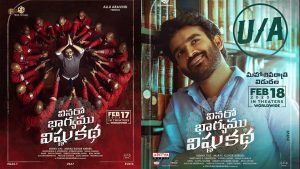 Starring: Kiran Abbavaram, Kashmira Pardeshi, Murali Sharma, Subhalekha Sudhakar
Director: Murali Kishor Abburu
Producers: Bunny Vas
Music Director: Chaitan Bharadwaj
Young actor Kiran Abbavaram is one of the promising talents in Tollywood. The actor who shot to fame with SR Kalyana Mandapam is out with Vinaro Bhagyamu Vishnu Katha. Produced by Bunny Vaas, the movie generated decent buzz before its release. Let's see whether Kiran can score a hit with this movie or not.
Story:
Vinaro Bhagyamu Vishnu Katha is a Telugu film that tells the story of Darshana (Kashmira Pardeshi), a popular YouTuber who gets in touch with her phone number neighbor, Vishnu (Kiran Abbavaram). As they collaborate to boost her online presence, Vishnu begins to fall for her. However, things take a dramatic turn when Darshana shoots and kills her other phone number neighbor, Markhandeya Sharma, leaving Vishnu astounded.
Kiran Abbavaram delivers an exceptional performance as Vishnu, a compassionate and helpful person. He portrays the character's emotions well and excels in his comedic timing. Murali Sharma is also fantastic as Sharma, bringing depth and humor to his role. Kashmira Paradesi shines as the female lead, Darshana, who adds significant value to the film's plot.
The second half of the film boasts impressive twists, with the climax twist being particularly notable. The background score and songs are excellent, and the dialogues are well-written and meaningful. However, the movie takes too long to get to the point, and the pacing is uneven, with some scenes feeling redundant and stretched. Some of the dubbing and lip-syncing also detract from the viewing experience.
The technical aspects of the film are noteworthy, with Chaitan Bharadwaj's background score and Daniel Viswas' cinematography being particularly impressive. While writer-director Murali Kishor Abburu's concept of linking characters through the neighbor number idea is interesting, the execution in the first half falls flat. However, the director makes up for it in the second half, and the attempt to create a multi-genre film is commendable.
Verdict:
Overall, Vinaro Bhagyamu Vishnu Katha is an entertaining film with suspenseful elements that make it worth watching at least once. Kiran Abbavaram's outstanding performance, Murali Sharma's fine acting, and the film's twists are its highlights. Despite its flaws, the movie is a good choice for the Shivaratri festive season.