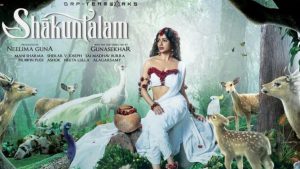 Cast: Samantha, Dev Mohan, Allu Arha, Krishnam Raju, Mohan Babu, Prakash Raj
Director: Gunasekhar
Producer: Neelima Guna
Story:
"Shaakuntalam" is a contemporary retelling of the classic love story "Abhignana Shaakuntalam," originally written by Kalidasa. The film centers around the epic romance between Shakuntala, portrayed by Samantha, and Dushyant, portrayed by Dev Mohan. Director Gunasekhar adds some action sequences and expands on certain details from the original text to make the story more commercially appealing.
The plot begins with Shakuntala's arrival at Kanva Maharshi's ashram and follows how Dushyant falls in love with her, leading to their secret Gandharva marriage. However, their happiness is short-lived as dramatic events separate them before they ultimately reunite for a happy ending.
Performances:
The movie Shaakuntalam focuses on two central characters, Shakuntala and Dushyant, who are played by Samantha and Dev Mohan, respectively. Although Samantha's casting as Shakuntala was a daring choice, it produced mixed results. While she performed well in the second part of the film as Atmabhimana Shakuntala, her image and body language were a hindrance to her portrayal of Srungara Shakuntala. Her masculine appearance did not align with the sensuous depiction of the character in Kalidasa's original text. Despite her efforts to convey the required emotions through her voice, it was not enough, and the authenticity of the character suffered. Additionally, due to the character's absence in significant portions of the film, Samantha's performance did not make a lasting impression.
On the other hand, Dev Mohan's portrayal of Dushyant was most commendable, except for a few shortcomings. He needed more screen time in certain scenes, and his lack of familiarity with the local culture diminished the character's impact. A more well-known face from the region might have had a greater impact.
However, the standout performance in the film was by Allu Arjun's daughter, Allu Arha. Her role in the climax was delightful to watch, and she delivered her lines with charm and poise during the confrontational scenes. Arha's on-screen presence and confidence were impressive and captured the audience's attention.
Gunasekhar's attempt to bring mythology closer to millennials is commendable.
Allu Arha's cute screen presence and beautiful dialogue delivery were amusing.
Samantha's emotional scenes were effective.
Dushyanta's court scene was impactful.
Drawbacks:
Lack of chemistry between the lead pair.
Absence of proper emotions.
Samantha's image causes interference in certain situations.
Samantha's own dubbing is noticeable in a few scenes.
Verdict:
Shaakuntalam is a movie that reflects Gunasekhar's genuine effort and intention to introduce mythological stories to younger audiences. However, the film's execution lacks the necessary drama to captivate viewers, making it challenging to hold their attention. In general, Gunasekhar's attempt to present a mythological tale to a younger audience is honest and sincere, but there are flaws that could have been avoided. While the movie may be appealing to those interested in the genre, it's crucial to set expectations accordingly.