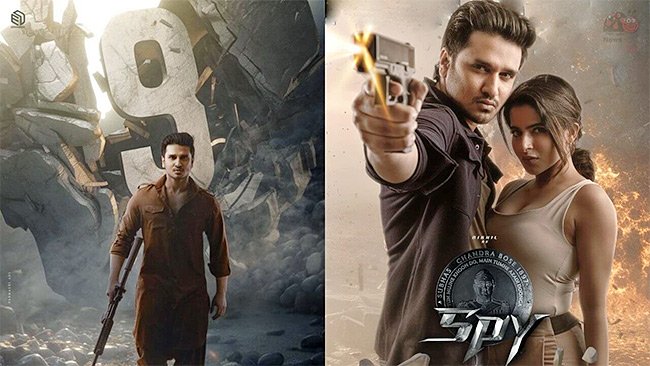 Starring: Nikhil, Iswarya Menon, Rana Daggubati, Sanya Thakur, Abhinav Gomatam, Aryan Rajesh, Makrand Deshpande, Jisshu Sen Gupta, Nitin Mehta, Ravi Varma, Krishna Teja, and others
Director: Garry BH
Producer: K Rajashekhar Reddy
Music Directors: Vishal Chandrasekhar, Sri Charan Pakala
Nikhil returns with another PAN Indian film titled "Spy," directed by renowned editor Garry BH, with a cameo appearance by Rana Daggubati. The movie revolves around the mysterious death of freedom fighter Subash Chandra Bose. Let's take a look at how it fares.
Story:
Khaadir (Nitin Mehta) is a highly wanted terrorist posing a significant threat to India. RAW Agent Subhash (Aryan Rajesh) manages to eliminate Khaadir, but unfortunately, Subhash also dies under mysterious circumstances. RAW discovers that Khaadir is still alive and plans a mission to eliminate him. Jai (Nikhil), Subhash's brother and a fellow agent, embarks on a dual mission: to avenge his brother's death and uncover the truth. The story unfolds as Jai faces off against Khaadir and battles with the forces at play.
Highlights:
Nikhil delivers an impressive performance in "Spy" once again, embodying the role of a convincing spy agent. He shines in his action sequences while maintaining a well-rounded performance throughout. Abhinav Gomatam provides excellent support and injects humor with his well-timed one-liners.
Rana Daggubati's cameo appearance leaves a significant impact, where he eloquently explains the importance of Netaji Subhash Chandra Bose. The subsequent Azaadi song sequence adds further intrigue.
Iswarya Menon delivers a satisfactory performance in her role, and the supporting cast, including Sanya Thakur, Nitin Mehta, Makrand Deshpande, and Ravi Varma, meet expectations. The second half of the film stands out with some noteworthy moments.
Drawbacks:
Despite its intriguing premise surrounding Subhash Chandra Bose, "Spy" fails to weave a compelling screenplay. The narrative lacks excitement and often feels dull, leaving those anticipating thrilling moments disappointed.
The film falls into the formulaic spy thriller category, failing to bring anything innovative to the table. Certain aspects, such as honey trapping, are poorly executed. The exploration of Subhash Chandra Bose's story remains limited to just a couple of scenes, missing the opportunity to delve deeper into the life of the freedom fighter.
Aryan Rajesh's character suffers from poor writing and underutilization, resulting in a lack of emotional depth. Jisshu Sengupta's character follows a conventional design, failing to generate excitement despite the presence of action.
Verdict:
In conclusion, "Spy" is a run-of-the-mill spy action thriller that brings nothing new to the genre. While Nikhil's dedicated performance and occasional engaging moments offer some respite, the film's lackluster narrative and absence of thrilling elements are its main drawbacks. The missed potential to explore the intriguing story of Subhash Chandra Bose further is a disappointment. Consider "Spy" an average watch, keeps your expectations in check.