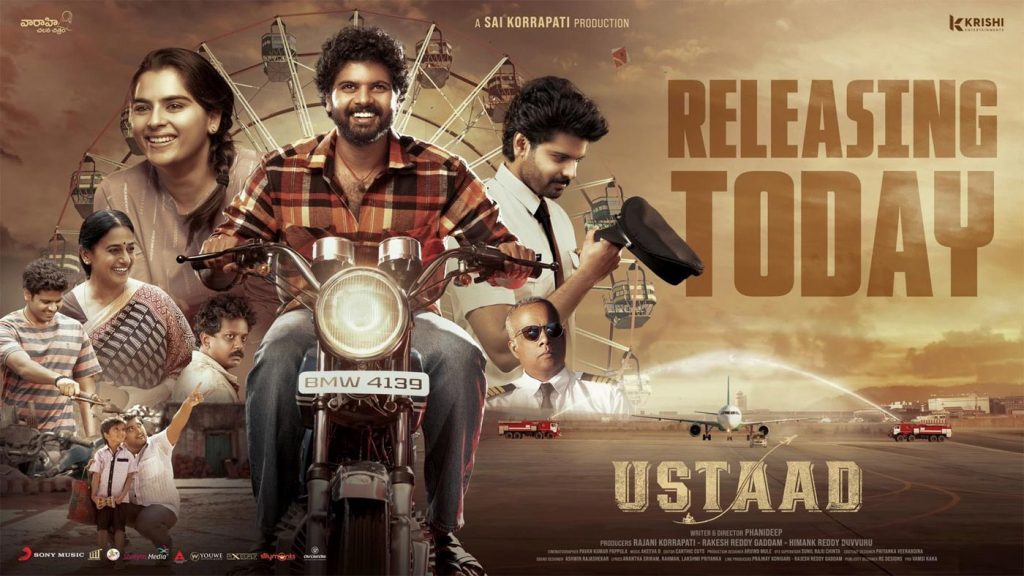 Starring:
Sri Simha Koduri as Surya
Kavya Kalyanram as Meghana
Gautham Menon
Anu Haasan
Ravindra Vijay as Mechanic
Venkatesh Maha
Ravi Siva Teja
Director: Phanideep
Producers: Rajani Korrapati – Rakesh Reddy Gaddam, Himank Reddy Duvvuru
Music Directors: Akeeva B
Story:
Ustaad, directed by Phanideep, revolves around the life of Surya (Sri Simha Koduri), a directionless youth who undergoes a transformative journey after acquiring his first motorcycle, affectionately named Ustaad by a mechanic (Ravindra Vijay). The bike becomes a symbol of inspiration, propelling Surya towards his dream of becoming a pilot. Alongside his aspirations, Surya's heart is captivated by Meghana (Kavya Kalyanram). However, his romantic journey is not without obstacles. The film delves into the challenges Surya faces in love and life, ultimately questioning whether he achieves his dreams.
Plus Points:
Sri Simha Koduri delivers a noteworthy performance, portraying a range of emotions with finesse. His portrayal of a spirited teenager is particularly convincing. The on-screen chemistry between Sri Simha and Kavya Kalyanram adds depth to the narrative, enhancing the initial connect.
The first half, despite its occasional pacing issues, offers compelling moments. Notably, the scene where Surya's bike and childhood memories serve as catalysts for his aviation ambitions is masterfully executed.
Ravi Siva Teja shines with impeccable comedic timing, making him a talent to watch in Tollywood. His portrayal of the hero's friend is engaging and effective. Kavya Kalyanram and the supporting cast contribute commendable performances.
Minus Points:
While the interval block leaves audiences intrigued about Surya's professional evolution, the second half struggles to maintain momentum. A prolonged love track in the latter part becomes tedious, diluting the overall impact. The film could have benefited from a more detailed exploration of Surya's professional journey.
Regrettably, the issues in Surya and Meghana's relationship are introduced late in the narrative. Excessive scenes and a sluggish pace in the second half test viewers' patience, overshadowing pivotal moments.
The narrative lacks progression in the second half, plagued by unnecessary scenes that hinder the story's development. The editing team could have made judicious cuts to streamline the pacing. While Ravindra Vijay delivers a solid performance, his character lacks the depth needed to elevate the storytelling.
Verdict:
Ustaad, a coming-of-age drama, falls short due to its narrative shortcomings. Despite sporadic impactful moments, the execution struggles to impress. The extended romantic segments, sluggish pacing, and repetitive scenes mar the viewing experience. Sri Simha Koduri's commendable performance is overshadowed by the film's disappointing overall impact.