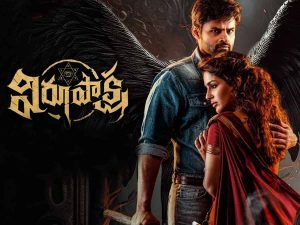 Cast – Sai Dharam Tej, Samyukta Menon, Soniya Singh, Ravikrishna, Sunil, Ajay, and Others
Director – Karthik Varma Dandu
Producer – BVSN Prasad
Banner – Sri Venkateswara Cine Chitra
Music – Ajneesh Loknath
After a two-year gap, Sai Dharam Tej returns to the big screen with the supernatural thriller "Virupaksha". Directed by debutant Karthik Varma Dandu, the movie has already created a buzz with its impressive trailer. Now, with its release, let's see if "Virupaksha" lives up to the expectations.
Synopsis:
The film revolves around Rudravaram village, where the villagers accuse Venkata Chalapathy (Kamal Kamaraju) of the deaths in the village and burn his family alive. Before dying, his wife curses the village, and after twelve years, the deaths begin again. Surya (Sai Dharam Tej) comes to the village and falls in love with Nandini (Samyuktha Menon). As he tries to solve the mystery behind the serial deaths, he gets entangled in the village's curse. Will Surya be able to unravel the truth? Who is behind these killings? "Virupaksha" is a thrilling ride that takes the audience on a journey of suspense and mystery.

Performances:
Sai Dharam Tej, who attempted the thriller genre for the first time, delivers an impressive performance. Samyuktha Menon gets a substantial role, and she plays it convincingly. Ajay's portrayal of Aghora adds an extra dimension to the film. Other actors like Rajeev Kanakala, Sai Chand, Abhinav Gomatam, Soniya Singh, and Ravikrishna do justice to their roles.
Technicalities:
"Virupaksha" is a technically sound film that keeps the audience on the edge of their seats. The screenplay by Sukumar is the backbone of the film, and it keeps the film's pace intact. The cinematography is excellent, and the visuals are captivating, especially during the thrilling moments. The background score by Ajneesh Loknath is perfect and adds to the overall mood of the film. Director Karthik Varma Dandu deserves appreciation for his debut film, but it's the screenplay that remains the highlight of the film.

Positives:
Sai Dharam Tej and Samyuktha Menon's performances are commendable. The screenplay and background score are the film's strong points, adding to its unpredictable twists and turns.
Negatives:
The first half of the film is slow-paced, and there are a few loose ends that could have been tied up.
Analysis:
"Virupaksha" may have a predictable plot, but the film's execution and direction are impressive. The film's pace and intensity keep the audience hooked to the plot. The film's director deserves praise for his attention to detail, and the suspense is maintained until the end. The first half takes a little time to establish the plot, but the second half makes up for it with its intriguing twists and suspenseful moments. The deaths depicted in the film are frightening, and the climax is satisfying.
Conclusion:
Overall, "Virupaksha" is a must-watch for fans of the thriller genre. The film's unpredictable plot, fresh twists, and horror elements make it an engaging watch. With no other major releases, the film is expected to do well at the box office.