Starring: Samantha, Varalaxmi Sarathkumar, Unni Mukundan, Rao Ramesh, Murali Sharma, Sampath Raj, Shatru, Madhurima, Kalpika Ganesh, Divya Sripada, Priyanka Sharma, and others
Director: Hari – Harish
Producer: Sivalenka Krishna Prasad
Music Director: Mani Sharma
After Anushka, it's only Samantha who is able to pull off female-oriented movies with ease in Tollywood. The star actress who has a big lineup of movies for release comes out with a thriller 'Yashoda' which revolves around the surrogacy mafia. The movie created all the required attention before its release. The movie has finally hit the screens today. Let's see what the movie is all about.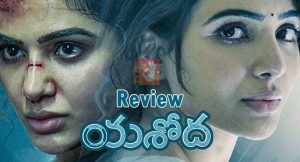 Story:
Yashoda (Samantha) comes from a poor financial background and is in desperate need of money. To secure herself financially, Yashoda agrees to become a surrogate mother. After agreeing to become a surrogate mother, she is shifted to Eva, a surrogacy center run by Madhu (Varalakshmi Sarath Kumar). Everything goes smoothly for Yashoda but one small incident raises doubt in her mind. Yashoda then takes its upon herself to find out the truth behind the surrogacy mafia. How she unravels it is the main story.
Also Read: URVASHIVO RAKSHASHIVO MOVIE REVIEW
Plus Points:
The plot which is never attempted in Telugu cinema looks refreshing and novel. The director duo presented the whole surrogacy concept in an interesting and intriguing manner.
Apart from Samantha, it's Varalakshmi Sarath Kumar who steals the show. She is getting better with each film and gets a meaty part once again. She nailed the role as the head of the surrogacy center. Varalxmi's flashback in the second half with Rao Ramesh is very good.
While the first half is ok, it's in the second half, the actual twists begin and they are executed well. The action part and suspense elements have been unraveled quite well in the second half. Murali Sharma, Sampath Raj, Unni Mukund, and Kalpika Ganesh are good in their respective roles.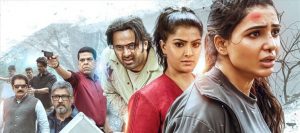 Samantha has once again given her best performance. Be it in emotional scenes, or action scenes, Samantha excelled in all.
Also Read: Anukoni Prayanam Movie Review
Minus Points:
One of the biggest drawbacks of the movie is the logical issues. Though the surrogacy center is equipped with high-technology cameras. Samantha escapes them easily. Such scenes are plenty and look a bit over the top.
The movie begins on an interesting note until Samantha reaches the surrogacy center. From there, the movie becomes flat and dragged.
Verdict:
On the whole, Yashoda is one more one-woman show from Samantha. Barring a few illogical scenes and some lags in the movie, Yashoda is a decent watch.