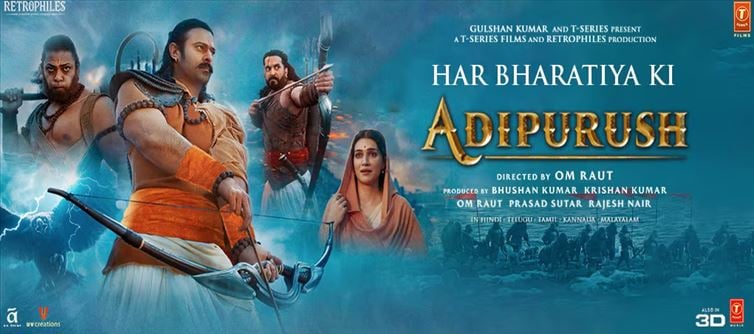 Cast: Prabhas, Kriti Sanon, Sunny Singh, Sai Ali Khan, and others
Director: Om Raut
Producers: Om Raut, Bhushan Kumar, Prasad Sutar, Krishan Kumar
Prabhas, the pan-Indian star, returns to the big screen with Adipurush, a mythological drama directed by Om Raut. After disappointing performances in his previous films, Saaho and Radhe Shyam, Prabhas aims to redeem himself with this ambitious project. Adipurush has generated immense pre-sales buzz in all languages and territories.
Also Read: Allu Arjun and Sreeleela Set the Stage Ablaze with Dance Moves
With Prabhas as Lord Rama, Kriti Sanon as Sita, and Saif Ali Khan as the menacing Ravana, the film promises a visually captivating experience, backed by an extensive investment in VFX work. Produced by T Series and Retrophiles, Adipurush seeks to offer a commercialized version of the Ramayana epic.
Review:
Adipurush presents a mixed bag of emotions, with its commercialized take on the Ramayana. The film manages to impress with its first 50%, delivering a very engaging experience. However, the subsequent 30% of the film tends to drag, causing moments of boredom. The climax, comprising the final 20%, falls into the average category, failing to deliver the anticipated impact.
Also Read: Ram Pothineni Getting Married?
One aspect that stands out throughout Adipurush is its visuals, surpassing expectations. The artwork of Ravana's fort, the depiction of demons, and other fantastical elements bear a strong resemblance to Hollywood fiction films, rather than strictly adhering to Hindu mythology. While this approach may not please purists, it adds a unique and visually appealing layer to the storytelling.
The portrayals of Hanuman and Sugriva, their den artwork, and the VFX work on the Vanara Sainyam, are commendable. However, a couple of fight sequences suffer from subpar VFX, although they do not significantly impact the overall viewing experience.
Adipurush seems to cater well to families and children, as the film embraces a new-age interpretation of the Ramayana. Prabhas as Lord Rama is undoubtedly a standout asset. His performance brings depth and conviction to the character, making it a memorable portrayal.
The background score and music in Adipurush are excellent, effectively complementing the on-screen visuals and enhancing the overall impact of the narrative.
Conclusion:
In conclusion, Adipurush falls somewhere between being a "one-time watch" and a "good watch." While the first half of the film captivates with its engaging storytelling and visually stunning scenes, the second half suffers from occasional monotony.
Prabhas shines as Lord Rama, delivering a standout performance, and the film's visuals exceed expectations. Despite its shortcomings, Adipurush is likely to find favor among families and younger audiences. It remains an ambitious attempt to present the Ramayana in a commercialized format, incorporating elements that may not strictly align with the traditional narrative but create a unique cinematic experience.