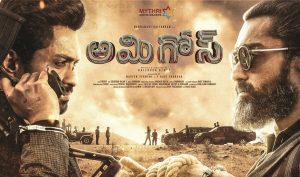 Cast: Nandamuri Kalyan Ram, Ashika Ranganath, Nithin Prasanna
Director: Rajendra Reddy
Producers: Mythri Movie Makers
Nanadmuri Kalyan Ram is one of those rare actors who tries to experiment with each and every movie. The young actor who is riding high after the sensational blockbuster of Bimbisara has come out with a thriller Amigos, a never tried experimental movie in Telugu.
Backed by the leading production house Mythri Movie Makers, the movie created a decent buzz before its release and finally hit the theatres today. Let's see whether Kalyan Ram can score another hit with Amigos or not.
Also Read: Michael Movie Review
Story:
Sidhu (Kalyan Ram) is a businessman who is into real estate and falls in love with RJ Ishika (Ashika Ranganath). One day Sidhu comes to know about a website where one can meet their doppelgangers and register on the site. Interestingly, he finds two more look-alikes, Manjunath from Bangalore and Michael from Kolkata.
The three doppelgangers finally meet and have blast. Everything seems happy and funny initially but things turn worse eventually when one among them is revealed to be a dangerous person. This puts the lives of the other two in danger. What's the actual problem and how the other two come out of it is the rest of the story.
Also Read: Writer Padmabhushan Movie Review
Plus  Points:
Different Concept
Parts in Second Half
Kalyan Ram's triple role
Minus Points:
First Half
Love Track /Comedy
Predictability
Lack of thrilling elements
Analysis:
Unlike most movies in which the look-alike heroes are related to each other, Amigos is a different concept movie that was hardly tried in Telugu. The core story revolves around three doppelgangers who are nowhere related to each other.
Director has presented the concept in an interesting way, however, the love track tests your patience and the lack of entertainment is another major disadvantage.
Verdict:
To sum it up, Amigos is a different and out-of-the-box plot, however, the narrative fails to bring excitement and thrill. The movie goes flatty in many places and picks up during the second half. If you are someone who likes to watch different concept movies with low expectations, this is a decent watch.