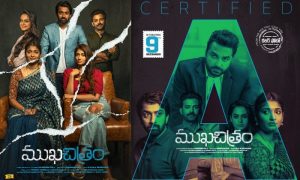 Starring: Vikas Vashista, Priya Vadlamani, Chaitanya Rao, Ayesha Khan, Vishwak Sen & others
Story, Screenplay: Sandeep Raj
Director: Gangadhar
Producer: Pradeep Yadav, Mohan Yalla
Music Director: Kala Bhairava
Several small and low-budget movies are up for release this week, but only a few movies like Mukhachitram are able to create a decent buzz. Actor Vishwak Sen appearing in a special cameo as a lawyer has created a bit of hype for the movie. Let's see what the movie holds.
Also Read: Chiranjeevi and Puri to team up for IDIOT 2?
Story:
Rajkumar, a Doctor by profession is a famous plastic surgeon in the town. Mahati (Priya Vadlamani) is a girl who belongs to an orthodox family. Rajkumar gets her photo through a wedding mediator and he gets impressed by her looks. He decides to get married to her and comes to Vijayawada to see the girl. Even Mahati likes Rajkumar and they happily get married with the blessings of the elders.
Also Read: It's wedding for Tamannah
When everything was going smoothly, his life takes an unexpected turn. Rajkumar's friend Maya (Ayesha Khan) meets with a serious accident and her face gets injured. The next day his wife slips from the steps and lasts her breath.
Rajesh transplants his wife Mahati's face to his injured friend Maya and what happens next? Was Mahati's death a natural one or a death plan is the rest of the story all about?
Analysis:
We don't often come across out-of-the-box stories. Though the stories are quite old or repetitive, the talent of the director lies in the way he deals with the subject. Though the movie's story is exciting, the director failed to handle it in an engaging way. The director has taken too long to establish the characters which appear a bit dragged.
The actual story starts in the second half but the director couldn't make the court drama more engaging. Though the movie gets interesting with Vishwak Sen's episode, the routine climax hampers it.
Plus Points:
Actors
Story
Twist
Minus Points:
Dragged story
Routine climax
Uninteresting drama
Verdict:
On the whole, Mukhachitram is an average movie that can be watched once if we can ignore the routine climax and a few dragged scenes.