The Rishab Shetty-stareer movie Kantara is on a record-breaking spree. The movie continues to shatter box-office records in Kannada, Telugu, and other languages and has collected a whopping amount of Rs 250 crores worldwide.
Read: Are Bollywood sisters dating the same guy?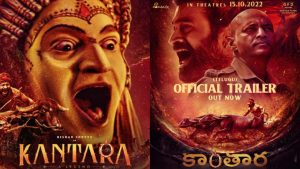 The actor performing the ancient Bhoota Kola and taking part in the Kambala is the major highlight of the movie. The audience is awed by Rishab's master story-telling, visuals, acting, and music. While the movie is creating sensation all over, here's some interesting news that broke out about the movie.
Read: Hansika Motwani set to enter the wedlock
Rishab Shetty, who is the director and also the hero of the movie had initially approached the late Puneet Rajkumar to narrate the story and the actor immensely liked it. However, after observing the intensity and passion for the movie during the narration, Puneet seems to have suggested Rishab Shetty don the hero's role apart from directing it. Upon Puneet's advice, Rishab Shetty acted as a hero and also directed the movie.