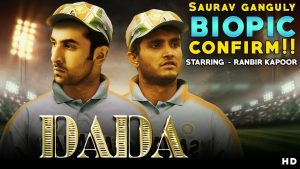 The trend of biopics in Bollywood is on the rise in Indian cinema for the past few years. Bollywood, which has produced several biopics recently is all geared up for a biopic on the legendary Indian cricketer Sourav Ganguly.
Also Read: Chiranjeevi and Balakrishna in a multistarrer?
As per the reports, Ranbir Kapoor has already shown his versatility as an actor with his portrayal of Sanjay Dutt in his biopic and will be reprising the role of Sourav Ganguly in this biopic.
It's especially intriguing that Ganguly himself has penned the script for his life story, which suggests that the film will have an intimate and personal touch. Additionally, the fact that Luv Ranjan is a frontrunner to direct the film adds even more excitement, as he has already worked with Kapoor on Tu Jhoothi Main Makkaar.
Also Read: Konaseema Thugs Movie Review
Sourav Ganguly is completely focused on his biopic for now, and it will be exciting to see who else becomes involved in the project as it moves forward. Overall, this potential biopic has all the elements of a compelling film, and fans of both Kapoor and Ganguly will undoubtedly be looking forward to any official announcements.