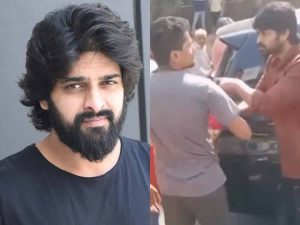 Tollywood actor Naga Shaurya has proved that he is not just a reel-life hero but a real-life one too. The actor recently came to the rescue of a girl who was being physically abused by her boyfriend in public.
In a video clip that has been circulating on social media, Naga Shaurya is seen confronting the man and asking him to apologize to his girlfriend for slapping her. The incident took place in the middle of a busy road in Hyderabad.
Naga Shaurya, who is known for playing roles that promote women's rights in his movies, noticed the man slapping the girl as he was passing by in his car. He immediately stopped his car and went to the man to intervene.
Also Read: Accidents on Vishal's movie sets are not real?
The actor repeatedly asked the man to apologize to his girlfriend for his abusive behavior. Passers-by also joined in to support Naga Shaurya and urged the man to apologize.
Naga Shaurya's actions have been widely praised on social media, with many people hailing him as a hero for standing up for women's rights and taking action to prevent violence against women.
Also Read: Prabhas's role revealed in Project K
As the man said: "She is my lover,", Naga Shaurya said: "She could be your lover, it doesn't mean you can misbehave like this. Why did you slap her on the road? Say sorry to her."
This incident serves as a reminder that it is important to speak out against violence and abuse and to take action to prevent it whenever possible. Naga Shaurya's actions show that even small acts of intervention can make a big difference in someone's life.