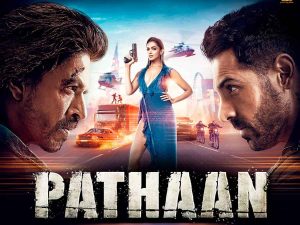 Starring: Shahrukh Khan, Deepika Padukone, John Abraham, Salman Khan (Guest role)
Director: Siddharth Anand
Producer: Aditya Chopra
Shahrukh Khan, who was once hailed as the 'Bollywood Badshah' and 'King Khan' hasn't been living up to his craze. The senior star hero hasn't delivered a hit after Chennai Express. After a miserable outing with Zero, SRK took a long gap of four years and came up with a high-octane action entertainer Pathaan. Let's see what's the movie is all about.
Story:
Pathaan (Shahrukh Khan) is a patriot and a former RAW agent who goes into exile under forced circumstances. On the other hand, a Pakistan official plans for an attack on India after Article 370 was scrapped. He consults Jim (John Abraham), who runs a private terrorist organization to carry out the mission. Jim was a former RAW agent but turns into a terrorist and hires ISI agent Rubina Khan (Deepika Padukone). What makes Jim go hate his own country and how Pathaan faces the abrupt mission is the rest of the story.
Also Read: Another Big Honor for RRR
Analysis:
Director Sidharth Anand who proved his mettle as a master of action thrillers with WAR movie has proved it again. He has all the ingredients in Pathaan to make it a perfect action thriller. The movie looks like a visual extravaganza but logic takes a back seat. Though the action scenes are stunning and the songs are good, the movie looks artificial and lacks the necessary emotion when the flashback episodes of the lead cast are revealed.
Also Read: Balakrishna tenders Apology
Advantages:
Shah Rukh Khan, Deepika Padukone
Salman Khan Cameo
Cinematography
Action Sequences
BGM
Disadvantages:
Story Line
Illogical Scenes
Screenplay
Predictable Narration
Verdict:
On the whole, Pathaan is a high-octane stylish action thriller with SRK, John, and Deepika at their best. Salman Khan's special entry is another asset. Barring a few over the top scenes, the movie is a decent watch.